. The Central Reserve Police Force came into existence as the Crown Representative's Police on the 27th July'1939.It became the Central Reserve Police Force on enactment of the CRPF Act on 28th December' 1949. It has completed 60 years of glorious history. The Force has grown into a big organisation with 191 Bn (173 executive Bns including 2 Mahila Bns, 10 RAF Bns, 5 Signal Bns and 1 Special Duty Group) 35 Group Centres including a Signal GC, 10 training Institutions, 2 CWS, 7AWS, 1 SWS, 2 MWS, 3 Base Hospitals and one 100 bed composite Hospital with a backup of well knit administrative set up covering the entire geography of the country.
The Central Reserve Police Force is an armed Force of the Union of India, with the basic role of striking reserve to assist the State/Union Territories in Police operations to maintain law and order and contain insurgency. Its role is that of a catalyst in maintaining law & order, and returns to barracks once this objective is achieved. The force is also being used for various police duties in various States.
The force is also being used for various police duties in various States. During the year 1999-2000 a total of 374 militants of various outfits were killed and 6981 militants were apprehended by the Force. Besides above the Force recovered 1299 arms of various type and 51326 rounds of ammunition during this period.
It is All India in character, both in deployment and in its composition.Due to its unique capability to quickly adapt to various situational requirements, and also, to work in perfect harmony with the State Police, CRPF has, over the years, acquired the distinction of being perhaps the most acceptable Force, by the people and the State administrations.
Besides Law and Order and counter insurgency duties, the role of CRPF in the General Elections, held repeatedly during the past few years, has been very significant and vital. This is especially true for the trouble torn States of J&K, Bihar and States of North East. During the  Parliamentary elections of Sept'99, the CRPF played a major role in the security arrangements.
Some main responsibilities include:
• Crowd control • Riot control • Counter Millitancy / Insurgency operations. • Dealing with Left Wing Extremism • Overall co-ordination of large scale security arrangement specially with regard to elections in distrubed areas. • Protection of VIPs and vital installations. • Checking environmental de-gradation and protection of local Flora and Fauna • Fighting aggression during War time • Participating in UN Peace Keeping Mission • Rescue and Relief operations at the time of Natural Calamities
One of the vital roles of the CRPF, which is not very evident, is guarding vital Central Govt. installations such as Airport, Power houses, Bridges, Doordarshan  Kendras, All India Radio Stations, residence of Governers and Chief Ministers, Nationalised Banks and other Government establishments in  insurgency affected States. The CRPF is ensuring the safety of the democratic institutions, and preventing the take over of civil society by the militants, in these highly disturbed areas. This contribution of the CRPF, though not very visible, is nonetheless very vital.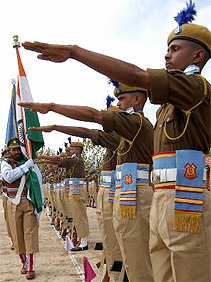 7.5% of the Force is deployed for the security of VIPs mostly in North-Eastern States, J&K, Bihar and Andhra Pradesh which include Governors, Chief Ministers, Ministers, MsP and MsLA of J&K, Assam, Arunachal Pradesh, Manipur and Nagaland, Tripura and Mizoram. CRPF is also providing security (Static guard) at the residence/office of Prime Minister of India, various Union Ministers and MsP and other dignitaries. 17.5% of the Force is deputed for guarding the important installations of Central and State Govts mostly in insurgency affected areas which includes Secretariats, Doordarshan Kendras, Telephone exchanges, Banks, Hydroelectric projects, Jails etc. CRPF is also deployed for the security of Parliament House.
10 Coys of CRPF are deployed for the security of three sensitive shrines i.e. Krishna Janma Bhoomi, Shahi Idgah Masjid complex (Mathura), Ram Janma Bhoomi- Barbi Masjid complex (Ayodhya) and Kashi Vishwanath Temple- Gyanvapi Mosque (Varanasi). 4 Coys of the Force are deputed for the security of Mata Vaishno Devi Shrine, Katra, Jammu (J&K).
CRPF is the only Para Military Force in the Country which has two Mahila (Ladies) Battalions. After its training in March 1987, 88(M) Bn won laurels for its work assisting the Meerut riots and later with the IPKF in Srilanka. Personnel of second Mahila battalion (135 Bn) performed creditably during the Lok Sabha elections 1996 in many states. At present mahila personnel are deployed in active duty in Jammu & Kashmir, Ayodhya, Manipur, Assam and other parts of the country where they are doing commendable job.
In addition each RAF battalion has a Mahila (Ladies) component consisting of 96 personnel.With increasing participation of women in politics, agitation and crime, policemen have been feeling handicapped in handling women agitations especially because even a small, real or alleged misdemeanour on their part in dealing with any matter related to women has the potential of turning into a serious law & order problem. To cope with such eventualities the first Mahila Bn in CRPF, the 88(M) Bn was created in 1986 with HQR in Delhi. The successful experiment of the 88 (Mahila) Bn and the ever increasing requirement of a Mahila component in dealing with emerging law and order situation necessitated the raising of the second Mahila Bn the 135(M) Bn with HQR at Gandhinagar (Guj). in 1995.
The Force Hqrs. of  Central Reserve Police Force is located at Block No.1, CGO Complex, Lodhi Road, New Delhi. It is headed by Director General, who is assissted by Addl.Director General (Hqr), 3 Inspectors General of Police, a Financial Adviser and Director (Medical).